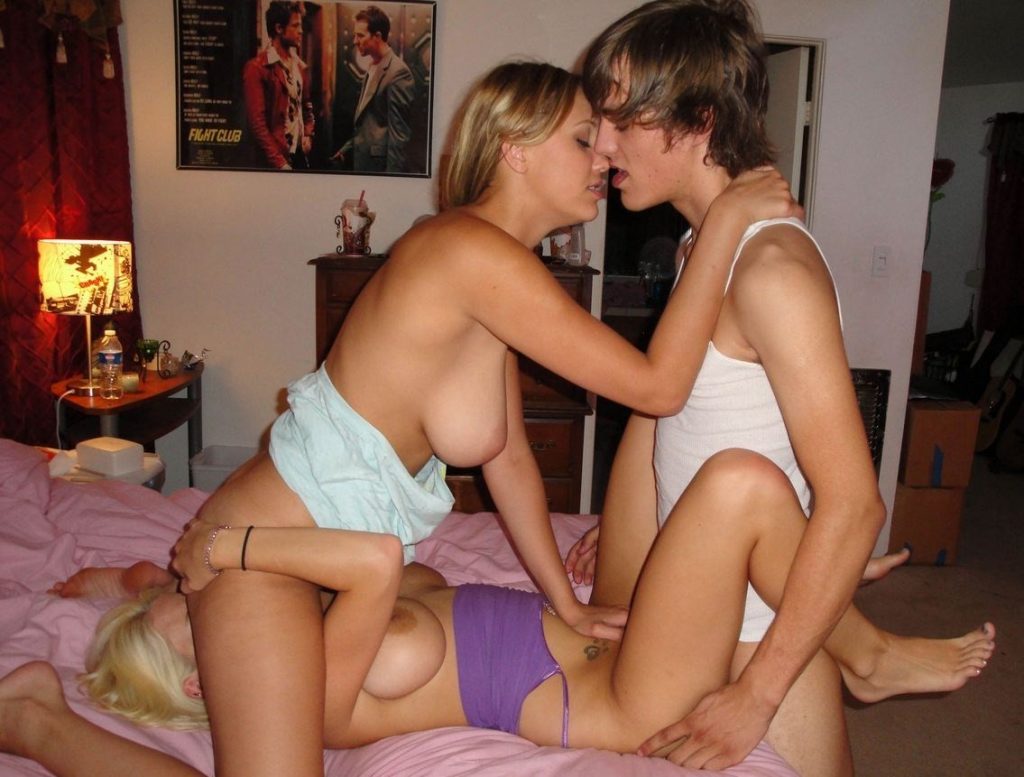 https://www.britishsexfinder.com
Looking to be sexually adventurous with more than one partner? A threesome is in the pantheon of many people's sexual fantasies. They can be horny, highly erotic, and seriously fun action. Making it happen however can be a hard sell despite all the perks, but fear not, we're here to help. More hands! More mouths! More genitals! More fun! It really is a magic number!
Threesomes might be a great way to spice up a monogamous relationship that has lost its heat. Introducing another person into your bedroom can be thrilling, but only if the couple carefully plans out their experience with a potential third person. The most famous threesome fantasy typically calls for two women and a man (FFM), but two men and a woman (MMF), three men (MMM) or three women (FFF) can boink each other just as happily.
Introducing the Idea to a Partner
For people who value monogamy as an important aspect of a relationship, threesomes can sound intimidating. Like all sexual fantasies, the desire for a ménage à trois should be introduced as an exciting new adventure to try together. It should also be discussed when the relationship feels rock-solid. Unsurprisingly, many people may worry that a partner's request for a threesome indicates dissatisfaction or a wish to break up. If this is the reason you are asking for a threesome, you may need to reconsider the relationship. Trust is the most important ingredient in a threesome, and it is necessary for everyone to enjoy themselves.
If your partner seems reluctant, ask what worries them and attempt to soothe their fears. Offer to let them choose the third and set limits on what they can or cannot do. Try exploring threesome fantasies when you are alone together by turning your partner on and then talking about three-way action, developing a positive association between threesomes and orgasms.
And if your partner says no? No means no. Threesomes are not worth losing a relationship over. And if a three-way is that important for your sexual satisfaction, perhaps it is time to break up and search for a partner who is also into threesomes!
Rules For Triple the Fun
Make sure to set rules and limitations before you even begin trying to find a third person. Discuss what can and cannot be done as specifically as possible. Is penetration allowed? What about kissing? Can one of you sit back and watch for a while? If someone leaves the room should everything stop? Will the third person sleep over? What will happen the next morning? Is this a one-time-only event or not? It might be a good idea to write the rules down so that they can be referred to later. Communicate openly and honestly about potential jealousy to avoid problems. Condoms should be switched for every penetration and sex dams are a good idea, too.
You should obtain permission from your primary partner for everything from licking nipples to buttholes. But the third person should feel safe and satisfied, too, so once you have established rules with your primary partner, welcome them into a discussion as well. Everyone should feel comfortable, stopping the threesome in its tracks if anyone feels uncomfortable or insecure. And do not break the rules in the heat of the moment for any reason.
Finding a Third For Your Tasty Triangle of Lust
There are two types of thirds: one you know and one you don't. While it may feel like a good idea to invite a close friend into your bedroom, consider carefully the possibility that things may get awkward afterward. The ideal third is someone you trust but will not have to see regularly. Do not pick someone you harbour romantic feelings for, as this could make your partner feel (understandably) insecure.
When it's finally time to do the deed, don't jump into bed together right away. Relax together and ramp up to it by playing sexy truth-or-dare or rolling naughty dice with sexy deeds on them. Building this intimacy can help the three-way feel more comfortable and safe for everyone. Try not to leave anyone out and be as generous as possible with your tongue, hands and toys to make sure that everyone is satisfied. If your primary partner worries about being ignored, make sure not to give too much attention to the third party.
Afterwards, discuss your experience. Find out how your partner felt during the threesome and how they now feel afterwards. Change the rules if necessary. With some fine tuning, and if you're sensitive and responsible, you can have many wild nights that bring you both even closer together, as well as begets some amazing orgasms.
So guys, are threesomes your favourite scenario? Ever had a threesome. What do you like/dislike about them. Share all your tasty trio thoughts in the comments