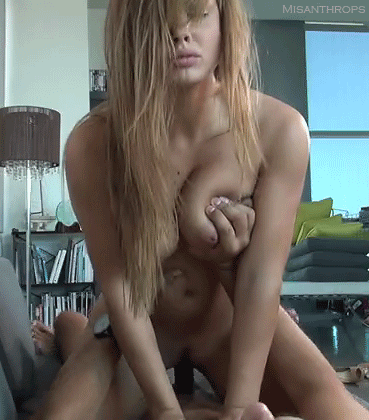 https://www.britishsexfinder.com
The benefits of having sex with her on top are nearly endless: Woman on top positions like Cowgirl, Reverse Cowgirl and Reverse Missionary let you penetrate her more deeply, providing greater pleasure for both of you, plus there's just something so sexy about laying back and watching her do her thing.
One of the main reasons most girls don't want to be on top is because of body issues. Everything is on full display when she is up there and if she isn't feeling confident about her body she's not going to want you looking at it. While all you see as she does her thing are nothing but terrific turn ons, she looks down and sees (in her mind) an extremely unflattering view. Allow me to explain from her perspective:
Situation: She's hunched over a bit as she rides you.
You see: Her amazing tits in your face. Woohoo!
She sees: An unflattering angle in which her stomach is creating "rolls."
Situation: She faces away and rides you reverse cowgirl.
You see: Ass, ass, ass, ass, OMG ASS!
She sees: Cellulite.
Situation: She leans back and puts her hands on either side of you displaying everything.
You see: A sight fit for the Gods!
She sees:Big thighs, boobs that are kind of falling to the side and flattening out and the illusion of a second chin when she looks down at you.
Compliments, Gents
Granted not all ladies think this way but the insecure ones do and will feel more comfortable in missionary. But honestly, what fun is that? To get her to chill out, try convincing her that you love her body and be specific about what you love seeing when she is on top. Is it the curve of her breasts or the bouncing motion? Is it that you like having your hands free to explore? Get specific. Even if you think she already knows that you love her body, say it again anyway. It can only benefit you more.
Knowledge is Power
Another reason she may not like getting on top is because, quite simply, she has no idea what she's doing. I know it may seem straightforward but finding the right rhythm is harder than you might think. It also is really discouraging when you keep slipping out. To get past this hurdle, gently guide her by putting your hands on her hips and having her move to the pace you set. After a bit of practice she will be able to perfect that motion and lock it down for next time.
The Driver's Seat
The last reason a girl might opt out of getting on top is because she doesn't like to be in control. Some women really enjoy being submissive and letting you take the reins. With her on top she's in control of the pace and it might not interest her to be the one calling the shots. Show her that you are still in command, even if you're underneath her, by directing your lady on what you want her to do. You can also hold her still, thrust up into her, setting your own pace, which is hot as hell but note – not easy to maintain. Save that last one towards the end of the hook-up because chances are you won't be able to last too long. And neither will she 😉
Practice Makes Perfect
Lastly, if you haven't tried it out before and she's a little inexperienced, tell her it's something you'd love to try and then guide her through it. Once she does it, she will probably go back to it again and again because being on top is… well… ahhhh-mazing!
So guys and girls. Your thoughts on woman on top? What do you enjoy most about it? Share all in the comments.
https://www.britishsexfinder.com